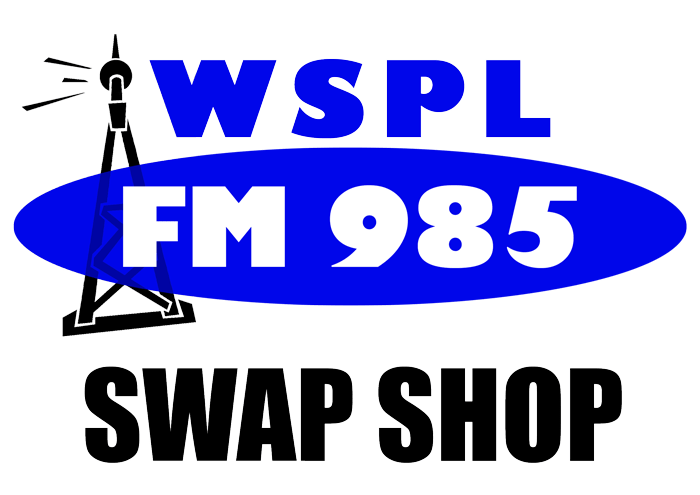 Welcome to the WSPL Swap Shop. POST YOUR ITEMS HERE. Posts must be approved before they will appear online. All posts are listed in order starting with the most recent. Please allow 24 hours for your post to appear. (Please note: Items submitted over the weekend will not appear until Monday.)
Items you post will stay on one week — unless you post again or send a new form indicating the item has been sold. Please be sure to complete the entire form. Also, please be to the point and fit all your items in the message box.
Remember — NO WEAPONS, CHEMICALS/FUEL/HAZARDOUS MATERIALS, MATTRESSES, FOOD PRODUCTS, MEDICINES, PERSONALS, REAL ESTATE INCLUDING MOBILE HOMES, RENTALS OR SERVICES. ANIMALS MAY NOT BE SOLD – ONLY GIVEN AWAY. NO LIVESTOCK. NO SCRAP METALS OR JUNK CARS. NO GAMBLING DEVICES. TICKETS MAY BE SOLD AT FACE VALUE OR LESS. THE SWAP SHOP IS INTENDED FOR NON-COMMERCIAL INDIVIDUALS. PLEASE LIMIT TO 3 ITEMS AND 1 PHONE NUMBER!
WSPL Radio Swap Shop brought to
you by Hombaker Automotive, Service Techs 24 Hour Services, and Whittaker Auto Salvage

FOR SALE: 2020 Maytag Gas Dryer – MGD 7230HW 27″ swing door, 7 cu feet gas smart dryer. Located in Mendota. $500.00 or best officer. Call and leave message 815-910-2874 LOOKING FOR: A good car. Around 2000.
Read More »