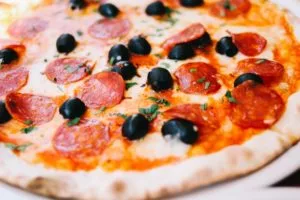 Pizza is not just a delicious food but also a cultural icon enjoyed worldwide.  Where did it originate and how did it get to what it is today?
Ancient Roots: Pizza has ancient origins, dating back to around 997 AD in Gaeta, Italy. However, it became popular in Naples in the late 18th century.

Margherita Pizza: The Margherita pizza, with tomatoes, mozzarella cheese, and basil, was created in 1889 and named after Queen Margherita of Italy. It represented the colors of the Italian flag.

Pepperoni Popularity: Pepperoni is the most popular pizza topping in the United States. Approximately 36% of all pizzas ordered feature pepperoni.

Pizza Delivery: The first pizzeria in the United States, Lombardi's, opened in New York City in 1905. The first pizza delivery, by a restaurant called Patsy's, was made in 1912.

Pizza Varieties: There are countless pizza varieties around the world, from Neapolitan and New York-style to Chicago deep-dish and Sicilian. Each has its unique characteristics.

Hawaiian Pizza Origin: Contrary to what you might think, Hawaiian pizza (with ham and pineapple) was not created in Hawaii. It was invented in Canada by Sam Panopoulos in 1962.

Pizza in Space: In 2001, Russian space travelers brought pizza to the International Space Station. It was the first time pizza was delivered to space.

World Pizza Day: February 9th is celebrated as "National Pizza Day" in the United States, but there's also "World Pizza Day" on December 9th.

Pizza Box Design: The traditional corrugated cardboard pizza box was patented in 1968 by Tom Monaghan, the founder of Domino's Pizza.

Pizza Consumption: It's estimated that Americans consume approximately 350 slices of pizza per second, or 21,000 slices per minute.