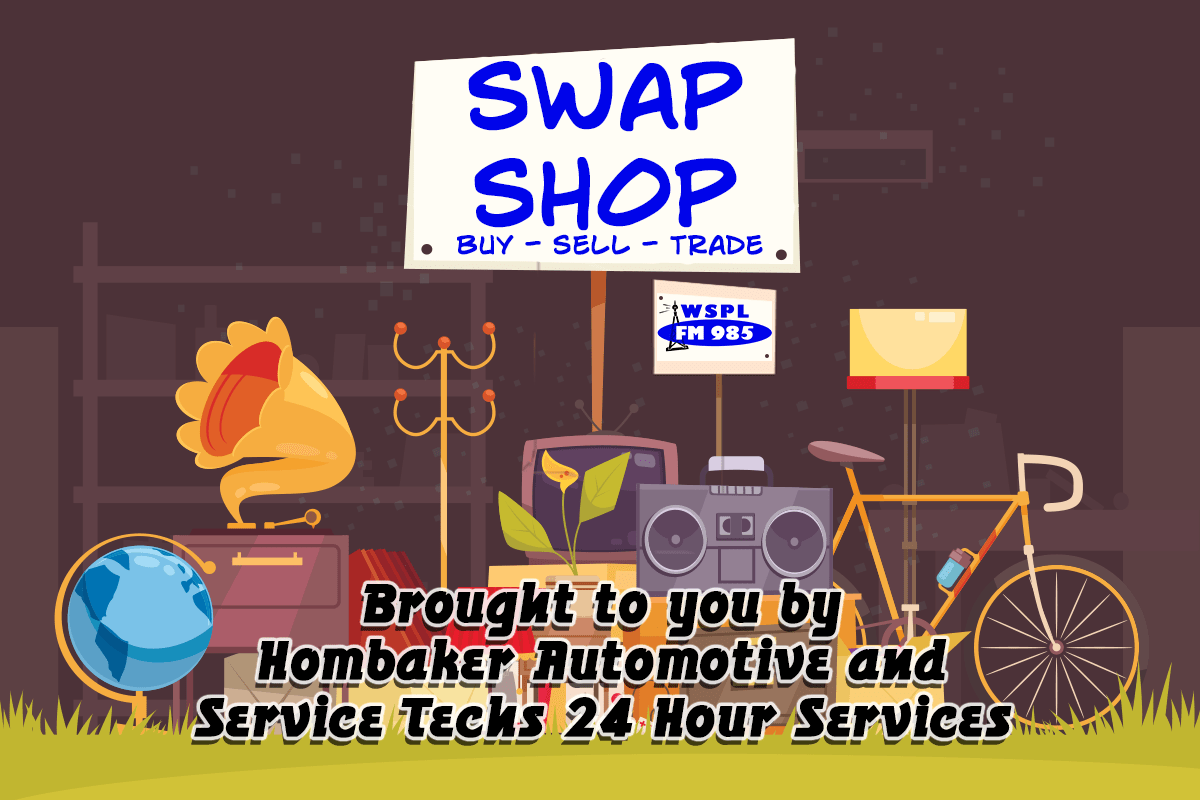 WSPL Radio Swap Shop brought to
you by Hombaker Automotive
and Service Techs 24 Hour Service

GARAGE SALE Saturday  8-3, 2206 Eastwood Ave on the corner of Oakley and Eastwood Streator
GARAGE SALE  Thursday, Friday, and Saturday 8-3 1385 East 16th Road, Streator. Lots of tools, holiday stuff, adjustable beds, houseware and Misc.
GARAGE SALE Friday, 8-5 Saturday 8-1 1016 Meadowview Drive, Mendota saw for cutting tile, coats, jackets, mens leather motorcycle jacket
GARAGE SALE located at 1514 South Jackson Street, Streator. Friday 8a-3p & Saturday 8a-2p. Furniture, Halloween and Christmas decorations, various household items.
FOR SALE Wooden hand crank corn sheller $100; Spring wagon seat $75; 4" multi purpose vice. $40 CALL(815)252-1035 
FOR SALE Pair of men's Long Haul blue jeans, in very good condition, straight leg relaxed fit, size 40" x 32" $10; Hardcover book, Chicago, Then and Now, with a lot of great pictures, $5; New pair of black ATB bike pedals, $10; Vintage Dutch Master cigar glass container with the lid, $15; Yardworks folding wheelbarrow in like new condition. It's ideal for leaf removal, firewood, dirt, rocks etc. The foldable design stores nicely in tight places. It's made of thick vinyl coated nylon, $55; Chicago Cubs 2007 booklet, $8. CALL(815)488-2934.
FOR SALE 2 machine washable Chicago White Sox stretchable book covers for $5 each. A Fawn Beanie Baby named Whisper in great clean condition, $10; Coca-Cola red flat plastic case, $6. A Coca-Cola glass mug, $4. 3 vintage milk glass hobnob lamp shades in good shape. A Taylor industrial bathroom scale, up to 300# capacity, $22. A vintage combination lamp/table, great for an apartment, $60; Classic cars card set with over 200 cards from the Atlas Edition, Very cool to look at for any car lover $15;  A primitive wall mirror, 24 x 31, $20.CALL(815)224-2931 and please leave a message
.
LOOKING FOR good quality men's medium sized mountain bike CALL(815)992-9268
FOR SALE 1990 Harley Davidson Heritage Softail Very Clean 23,500 miles New Battery, Cam few other addons. $4300 CALL(815)672-3623
FOR SALE – microwave stand CALL(815)663-8592
FOR SALE 22" Weber charcoal grill, new in box, $50; basement watchdog backup battery system, no battery, $35; pipe fittings and electrical stuff; small upright apartment freezer $40 Leland Area CALL(630)234-4701
FOR SALE Cub Cadet riding mower 19 hp hydrostatic LT10 new battery, tires 42" deck hydrostat $250; John Deere riding mower 316 48" hydrostatic $525; 150-200 electrical breaker switches some new or used Make Offer; windmill tower, no blades or fins $250 CALL(815)970-1332
FOR SALE 20" girls bicycle; 23 gallon fish tank CALL(815)341-0454
FOR SALE Lumber – 20' 2×12" dimensional plank. $40 each; All steel barge box grain wagon with hoist,. $500; log carved couch, great for log cabin or on a porch. $300 CALL(815)252-1035
FOR SALE mobility scooter, headlight, tail light all included CALL(815)910-9911
FOR SALE John Deere Riding 210 Mower, runs, cuts drives 10hp Kohler Motor $500; Two Powered Killespie Subwoofers, in good shape $150 Ea; 8"  Kenwood turntable; Pioneer Home Stereo with Mitsubishi speakers from the 70's Pair of Grundig Speakers. Fiberglass canoe. CALL(815)250-2842
LOOKING FOR an outdoor outhouse with a toilet. CALL(815) 510-2934.
FOR SALE silver 2007 Buick LaCrosse CX, V6 engine, 4 door with 182,000 miles. Has new tires. $5,000  CALL(815) 527-1119
LOOKING FOR a casual women's bike.  CALL(815) 343-2595