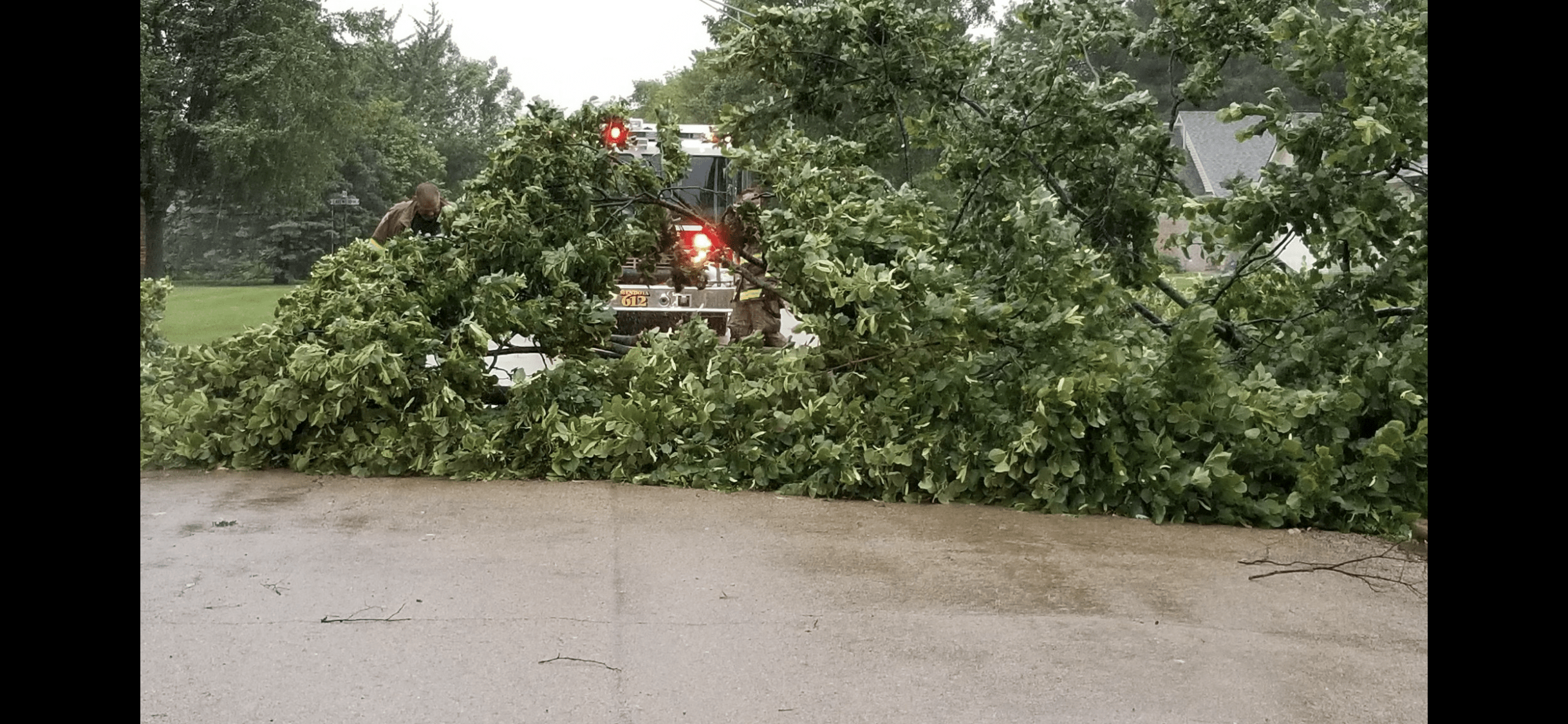 LASALLE – A number of cities across North Central Illinois have announced different ways for residents to clean up their property of fallen tree limbs after the Monday storm that left thousands without power. LaSalle, Mendota, Peru, Oglesby and Ottawa ask that you leave tree debris by the curb. Crews will do their best to get those branches when they can.
LASALLE
City workers will be going through town conducting branch pickup for the next couple of weeks. This service will be free and there is no need to call City Hall to have your branches picked up. The branches must meet our usual requirements of being no more than six feet long or three inches thick. The drop-off area will also be available to residents near Oakwood Cemetery on the way to Rotary Park. When traveling east on U.S. 6, turn left onto Troy Grove Blacktop and then another left towards Oakwood and Rockwell cemeteries. Continue on that road to the drop-off site. Police will be at the site checking IDs to ensure the area is consistently available strictly for La Salle residents.
MENDOTA
Tree limbs should be left at the curb for the city to pick up when they can.
The burn pit hours have changed. The Burn Pit is for Yard Waste Only
Wednesday August 12 10:30 AM – 2:30 PM
Thursday August 13 from 8:30 AM – 2:30 PM
Friday 10:30 AM – 1:30 PM
Saturday 10:00 AM – 1:00 PM
PERU
Due to the overwhelming amount of storm damage in the City of Peru, all fees for chipper service are being temporarily waived. There is no need to call in to be added to the list. Public Works will be canvasing neighborhoods to pick up chipping at the curb starting at the West end of town and heading East. It will be over the course of approximately a week so please be patient and we will get to you as soon as we can.
Items accepted are bush trimmings and tree limbs no longer than 4ft in length and 6" in diameter, stacked as neatly as you can. PLEASE NO ROOTS, ROCKS OR DIRT as they clog and damage the machine. Please also make sure to keep vehicles clear of your chipping pile so we can service as many addresses as possible.
OGLESBY
The Street Department is out removing and chipping branches and will continue to do so for as long as necessary. Please have them accessible and by the curb. The branches must be no larger than 4″ in diameter.
OTTAWA
Additional yard waste dumpsters will be temporarily placed in the Riordan Pool parking lot and at Allen Park. These dumpsters are in addition to the yard waste dumpsters in the 400 block of West Jackson Street. City will pick up tree limbs and branches due to storm.  The City will continue to clear the down tree limbs and branches from the streets following yesterday's storm. Once the streets are cleared, over the next week City crews will be going through all areas of town to pick up down tree limbs and branches. Residents are advised that these items are to be placed on the berm.