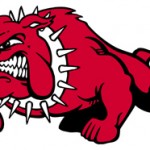 GRANVILLE — The Streator Bulldogs kicked off their baseball season with a win that had smiles all around the dugout following the final out at Jenkins Field in Granville.
With what was a slow start for the Bulldogs in the first two innings turned into a game of patience and finding the right pitches to hit in the middle two innings of a 17-2 win at Putnam County (2-2) over the Panthers. Joey Byers (ND) got the start on the bump and cruised through the first inning, striking out the side.
"I felt great. Coming out of the bullpen (before the game), I felt I was throwing good, throwing hard and pounding the zone." Byers said of his first outing.
Streator (1-0) got on the board first in the top of the second inning when Jake Williams hit a line drive to Putnam County center fielder Nolan Whitney, who airmailed a throw from the outfield into the Panthers dugout, allowing Daniel Gonzalez to score. An RBI groundout by Peyton Phillis brought home Dakota Limberg to put the Bulldogs up 2-0.
In the bottom half of the second, Putnam County got even with two of their own runs, an RBI single by Max Hoffstedt and a bases loaded hit-by-pitch to Cam Colby. Byers, in a jam, would proceed to strike out his next two batters following a quick visit from Streator head coach Ray Phillis to limit the damage and keep the score tied at two.
In the third inning, the Bulldogs took off and scored seven runs to bust the game wide open. Streator collected six hits, including an RBI double from Limberg, an RBI single by John Benckendorf, and a 2 RBI triple by Byers. Another run would come in off a sacrifice fly by Phillis and a throwing error by the Panthers third baseman Michael Kettman.
A walk to Connor Bean and a strikeout to Logan Kreiser would end Joey Byers' short, but effective outing. Relief pitcher Zach Grabowski came in and kept the third inning relatively quiet for the Panthers, who threatened with a runner on third.
The Bulldogs would explode for seven more runs in the fourth inning and add on one more in the fifth, leading to the 17-2 final score.
Streator coach Ray Phillis was very pleased with the way his kids came out confident and patient at the plate. "They threw some good strikes our way, and our kids made some good connections, had guys on base, and come up with big hits."
The Bulldogs struggled with pitching depth last season en route to a 5-21 season, but Phillis says he has nine guys with pitching experience that he'll be able to work with this year. "Today we wanted to get work with our top three guys. Joey (Byers) for his first outing, and only his third time in cleats on the dirt, was effective with his fastball, including his two-seamer. Zach (Grabowski) was throwing strike, strike, strike, and Max (Starkey) came in to finish the game, help us relax and overall, a good showing for down the road."
Up next for Streator are back-to-back rivalry games next Wednesday at home against La Salle-Peru, then a Thursday road game up Illinois Route 23 to take on Ottawa. Putnam County continues a tight five-game home schedule with Pontiac Friday, Seneca Saturday, Midland next Tuesday and Eureka next Wednesday.
-=-=-
STR (1-0) – 0 2 7 7 1 — 17 15 0
PCO (2-2) – 0 2 0 0 0 — 2 4 3
Streator Pitching

WP: Zach Grabowski (1-0; 1.2 IP, 2 H, 1 K, 18 pitches)
     SP: Joey Byers (ND, 2.1 IP, 2 ER, 2 H, 8 K, 1 HBP, 60 pitches)
RP: Max Starkey (1 IP, 0 H, 3 K, 2 HBP, 20 pitches)
Putnam County Pitching
LP: Max Hoffstedt (2+ IP, 5 R (3 ER), 5 H, 46 pitches)
     RP: Ben Just (1 IP, 4 R (2 ER), 3 H, 22 pitches)
     RP: Owen Mallery (0.1 IP, 6 ER, 3 H, 3 BB, 25 pitches)
RP: Michael Kettman (0.2 IP, 1 ER, 3 H, 16 pitches)
RP: Logan Kreiser (0+ IP, 1 ER, 0 H, 2 WP, 10 pitches)
RP: Cam Colby (1 IP, 1 H, 1 HBP, 10 pitches)
Streator Box Score

Adam Brown (2B) – 1-for-1, 4 BB, 1 R
Cooper Melvin (RF) – 0-for-4, 1 R
     Kendall Austin (PH, 4th) – o-for-o, BB, RBI
Joey Byers (P) – 2-for-3, 3B, 2 RBI
     Blake Kelly (CR, 3rd, 4th) – 2 R
     Zach Grabowski (P, 4th) – 1-for-1, RBI
     Max Starkey (P, 5th) – 0-for-1
Daniel Gonzalez (1B) – 1-for-3, BB, RBI
     Isaiah Austin (PH, 5th) – 1-for-1, RBI
Dakota Limberg (SS) – 3-for-3, 2B, 3 R
     Kyle Cantrell (PH, 4th) – 1-for-1, 2 RBI
Mitch Vickers (3B) – 1-for-4, RBI, R, SB
     Hunter Telford (PH, 4th) – o-for-1, IF
Jake Williams (LF) – 1-for-3, 1 R
Peyton Phillis (CF) – 1-for-3, SACF, 2 RBI
John Benckendorf (C) – 2-for-2, 2 RBI
     Hunter Telford (CR, 2nd, 3rd, 4th) – 3 R
TEAM – 15-for-31 (.484), 17 R, 15 H, 13 RBI, 6 BB, 2 HBP
2B: Limberg (2), Phillis
3B: Byers
GIDP: Byers (Schorn-Wright)
Putnam County Box
Jace Schorn (2B) – 1-for-3, 2 K
Caleb Dzierzynski (SS) – 0-f0r-2, 2 K
     Owen Mallery (P) – 0-for-1
Connor Bean (C, SS) – 0-for-2, K, BB, SB
Logan Kreiser (LF) – 0-for-3, R, 3 K
Caleb Tonozzi (DH) – 2-for-2, R
     Nolan Whitney (CR) – 0-for-0
Kaleb Wright (1B) – o-for-2, K, HBP
Michael Kettman (3B) – 0-for-2, BB, 2 K
Max Hoffstedt (P) – 1-for-1, RBI
Ben Just (P, C) – 0-for-2, K
Cam Colby (RF) – 0-for-1, HBP
TEAM – 4-for-20 (.200), 2 R, 4 H, 12 K, 2 BB, 2 HBP